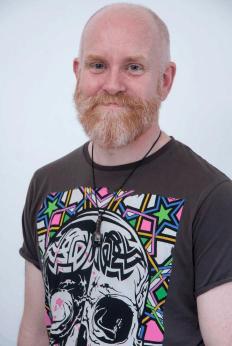 Edwin Courtenay would describe himself as one of the "Cunning Folk", a term used in the 15th century to describe those naturally gifted with psychic, spiritual and mystical abilities which they would use to help those in their community. 
Edwin is a psychic, or sensitive as he prefers it, a seer and spiritual medium or channel - communicating with Angels and Ascended Masters as well as the denizens of the Other World - the Fairy Folk and Elementals. He is a Pagan by religion and a practising Magician working with ritual, ceremony, chant and song to heal and awaken, empower and transform. He is a spiritual teacher and consultant advisor using his talents to guide and offer insight. 
He is a staunch believer in discernment and whether lecturing, teaching or guiding people on retreat always makes it very clear that he does see himself as a preacher - seeking to convert those within his care but rather as a messenger sharing that wisdom offered to him by Spirit. He is a great believer in hard work and always advocates that we get out of life - and his courses - what we put into them! 
Edwin is the first to admit he is not 100% accurate as a channel - he doesn't believe that anyone is - but rather prone to making mistakes just as anyone else might be when tired or stressed, also he endeavours to evolve and progress as all humans do and so is inclined to change his opinion about matters spiritual from time to time as his own understanding expands and grows. 
Anyone who has attended one of Edwin's workshops will attest that he is often down to earth, irreverent and fun loving with an at times wicked sense of humour ensuring that in many ways those who attend his discourses are guaranteed to get a great deal from the experience, as Edwin believes that the best way to learn is when you are smiling. Edwin is the reviver of the Inspiration Reiki of Atlantis system and founder of Runeki the Reiki of the Runes, he is a healer - though this is not something he offers as a professional service - but is more than happy to send free absent healing to those in need. 
Edwin Courtenay teaches workshops up from The College of Psychic Studies and has presented lectures and workshops for Alternatives in London and has been fortunate to co present at conferences with such luminaries as Diana Cooper, Judy Hall, Richard Simmons, Norma MIllanovich and Rosemary Stephenson. He has published three books The Ascended Master Book of Ritual and Prayer, Reflections - the Masters Remember and The Archangelic Book of Ritual and Prayer as well as countless meditation CDs with Rosemary Stephenson the famous sacred sound practitioner and healer. 
In 2007 he and his partner Andrew Helme created Ipssissimus their online shop from which all manner of mystical and magickal goodies might be purchased along side Edwin's various readings and services and Andrew's remarkable hand made jewellery. Andrew and Edwin live with their beloved familiar Bodkin a black Labrador in Northumberland from where Edwin and Andrew often teach and lead retreats.