The College has long championed spirit-inspired art. Our collection holds works from some of the greatest spirit artists in history. So it's a great honour for us to welcome two of the world's most eminent contemporary visionary artists, Alex Grey and Allyson Grey, who joined the College for an online sharing. 
Alex Grey and Allyson Grey have been blazing trails with their art, portraying multiple dimensions of reality and interweaving biological anatomy with spiritual energy, since the 1970s. 
In their online talk at the College on 19 February 2021, Alex and Allyson shared past-life regressions and spontaneously recalled previous lives that opened them to inner transformative work. They talked about their most profound synchronicities and the journey toward founding the Chapel of Sacred Mirrors. Their lecture included reflections on Alex and Allyson's experience meeting The Kuten La, medium for the Tibetan Oracle, who protects The Buddha Dharma and its practitioners.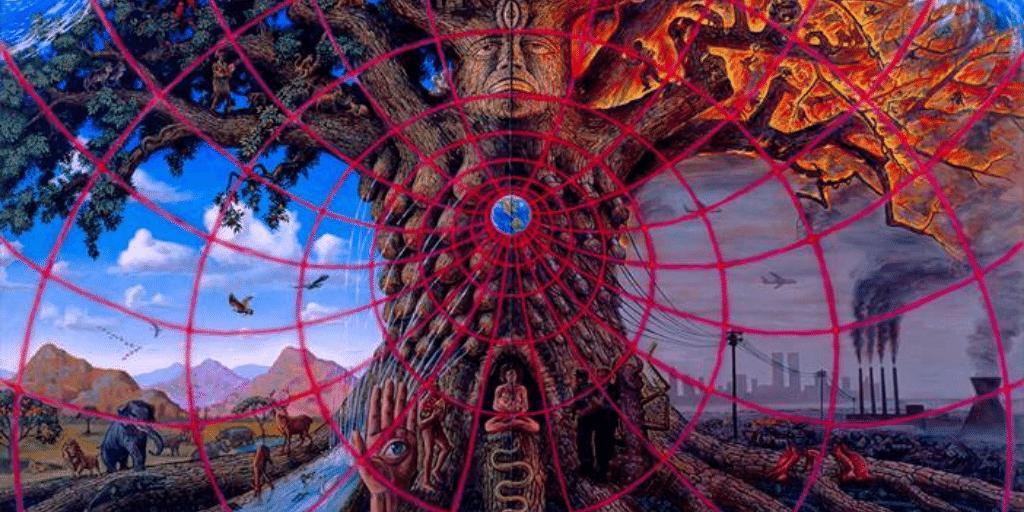 Alex and Allyson also spoke about Alex's painting Gaia (above) envisioned in a mental/visual flash on 11/15/88, and painted in 1989. It portrays the World Trade Towers in New York City with two jets flying dangerously near, a vision predictive of 9/11/2001. 
Alex Grey and Allyson Grey are among the most eminent contemporary spirit artists in the world. Alex has featured in the Watkins Review top 20 spiritual teachers, while Allyson has long been a mentor and influencer of the contemporary Visionary Art movement. Inspired by psychedelics, the mystical and PSI, they co-founded the Chapel of Sacred Mirrors in New York, a cultural centre and refuge for contemplation that celebrates a new alliance between divinity and creativity. 
Image: Gaia by Alex Grey (www.alexgrey.com)
Never miss an event! Join our newsletter for updates.