Want to know what your pet is thinking, or why they behave in the ways that they do?
This online animal communication workshop will teach you how.
Pet psychic Beth Lee-Crowther has been communicating with animals since childhood. In this workshop, she will show you how you can do it too. You will learn how to prepare for effective animal communication, as well as how to apply Beth's unique 10-step PACT method (Psychic Animal Communication Technique)

You'll learn how to:

Telepathically communicate with your pet
Receive important messages from your pet, including solutions to problems, past issues, upcoming events
Gain a deeper understanding of your pet's needs and see if your pet has any psychic messages for you
What to expect when you begin communicating with an animal
Clairvoyance, clairaudience, clairsentience and claircognizance in animal communication

You'll also explore which questions are best to ask your pet, and how to communicate with your friends' pets in a safe and ethical way. 
We'll also explore:

Communicating with pets in Spirit

You will explore pet mediumship and how to link with pets who have passed away using a photograph of the animal
Lost and missing animals

You will learn how animal communication can be used to assist in locating missing pets and the tools and techniques which can help
Beth will be bringing along a few of her animal friends - and you are welcome to bring yours too! This is a safe and friendly space in which you are welcome to ask questions.
--
Entry requirements
Please have with you photographs of your pets, or animals you know, either living or passed away. These can be printed or digital photographs.
This workshop is an introductory guide to telepathic and psychic communication with your pets and is suitable for anyone who wishes to deepen their connection to their pets and other animals.
--

We will not be recording this workshop. One of the unique aspects of the College's online events is that they are highly interactive. Participants are encouraged to discuss and share with the tutor and the group. These sharings can be very personal, and some may not feel comfortable with them being recorded.
--
This workshop will be live in our online classroom
All you need to take part is a good internet connection and a computer with a webcam, microphone and Zoom.
On booking this workshop, you will receive an email with the Zoom link to access it. Remember to check your spam folder if you don't receive this confirmation email in your inbox.
Please send us a message if you have any questions. We hope you enjoy the workshop!
About Beth Lee-Crowther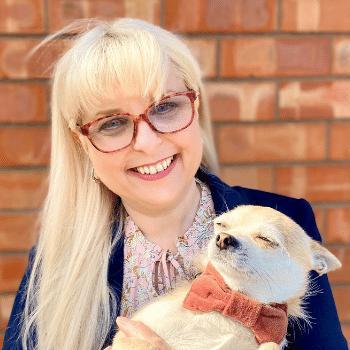 Beth Lee-Crowther is perhaps most familiar from her TV appearances as The Pet Psychic on ITV. She has been working as an animal communicator and psychic medium for over 20 years.
Read more about Beth
Register your interest
This workshop has already taken place, please register below and we'll let you know when it runs next.