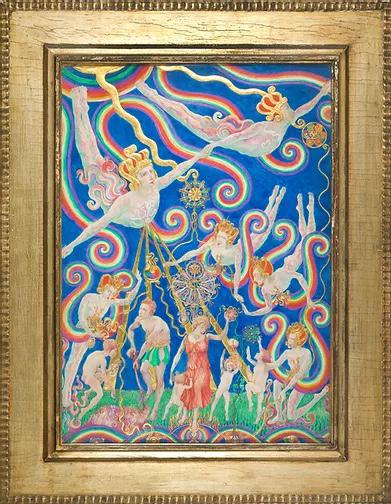 The College archive, which began in 1884, is a wonderful collection amassed almost entirely from donations over its long history. With a reputation as a secure repository for spiritualist and psychic material, the collection continues to grow. 

Over the years, it has attracted hundreds of scholars, authors and curators drawn to its wealth of spiritualist history, including an impressive library of books from the 18th century to the present day. We encourage this interest. Researchers are welcome to contact Vivienne Roberts, our College Archivist, using the contact form on this page for further details. Fees charged for research days and for the publication of images help to maintain and care for this unique, historic collection.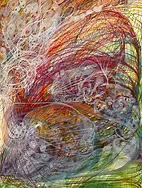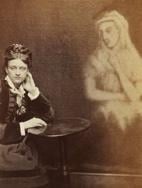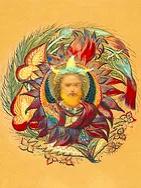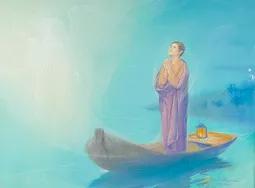 College Archivist Vivienne Roberts preserves, manages and safekeeps our collection. Here, she shares why she has perhaps the most covetable job in the world...
"As the Archivist of The College of Psychic Studies in London, my day involves documenting and researching their large collection of art, photographs and artefacts. Finding out more about the history of these curious objects often needs the skills of a detective and with over 11,000 books in the library along with reams of letters, pamphlets and periodicals, there's no shortage of reference material. Scholars and researchers like to talk about 'library angels' when they happen upon a book or article that can solve a mystery in an instant. More often though, in my experience, exploring the history of a person, artwork or artefact can lead to hours down a rabbit hole trying not to get entangled in a web of numerous fascinating tangential forays. 
​The reward for such time-consuming effort is large. It can result in the identification of artists who have spent decades languishing in obscurity. Ethel Annie Weir was one such artist. Her drawings in the College collection went on to feature in the Tate's Virigina Woolf exhibition in 2017. Another was the artist Alice Pery who turned out to be a direct descendant of Edward III. The latest was a College member from the 1890s called Alice Essington Nelson. She is one of a few remarkable female spiritualists whose abstract drawings anticipated Modern Art. Her work is to feature in an exhibition at the Pompidou Centre in Paris in 2021 followed by the Guggenheim in Bilbao. 
Alongside Alice's artwork is the undoubted jewel in College's crown; an album of spirit drawings by Georgiana Houghton who was a founding member of the College in 1884 when it was known as the London Spiritualist Alliance. Georgiana's beautiful abstract watercolours have recently gained attention from the artworld and could help to rewrite the history of modern art. Georgiana was not only known as an artist. She was also a pioneer in spirit photography which was prominent from 1860s to 1930s. The College is proud of its extensive collection from all the major practitioners of that period as well as the published research from psychic investigators who were captivated by the phenomenon."
Private Tours of the College Collection

For the attention of schools, colleges and universities, historical societies, art groups and all of those with a curious mind.
Inspire your students and members with a two-hour private tour of the College's wonderful collection, led by our curator Vivienne Roberts. The tours accommodate up to 15 people and cost £140. Email us to arrange a date. 
Treasures from our Archive

We regularly feature pieces from our archives on our blog. Here is the latest article.
Archive Treasures

Of the hundreds of entries we received for our 2023 Art Competition, we announce our winner, judges' choices, and the shortlist... Congratulations!

By The College of Psychic Studies -

Read More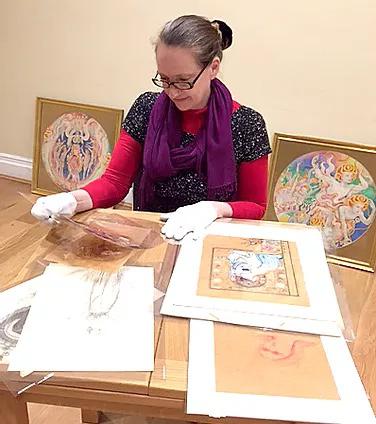 Contact our Archivist
Researchers are welcome to contact Vivienne Roberts, our archivist, through the form below.
CREDITS
1 Ethel le Rossignol, from A Goodly Company series of paintings and drawings, 1920-33. 2 Georgiana Houghton, Flower of Catherine Emily Stringer, 1866. 3 Parkes and Reeves, Spirit Photograph showing Florrie Cook and a spirit, circa 1874. 4 Anna Howitt Watts, Spirit Drawing, circa 1858. 5 Baron Arild Rosenkrantz, Spirit pastel drawing, circa 1929. 6 Vivienne Roberts, College Archivist and Curator.