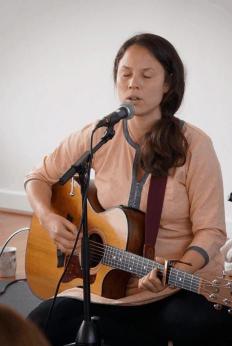 Daisy Bowman is a UK-based singer-song writer.
After years of studying somewhat chaotically to work as a doctor, she realised that she had forgotten to pay attention to her true desire to create and express musically. Since then, she's been writing and playing songs which are close to her intense, yet heartfelt experience of life.

Sometimes she sings alone but prefers it when she's joined by her partner Neil Kerr (Percussion/Bass/vocal) and friends (other melodious instruments and vocals).

Though new to being the other side of live music, she endeavours to create an experience which is intimate and inclusive rather than overly performance oriented.
Her songs are influenced by folk, blues and jazz as well as urban and more recently Indian music.