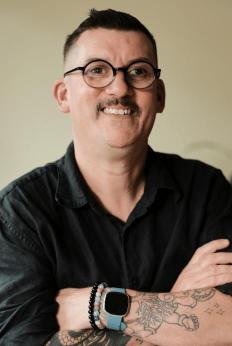 I was born in 1977 in Southampton, and grew up in rural Essex, living on a working farm with my family. Living in all that space definitely helped develop my awareness and sensitivity.
I had my first emotional encounter with death when I was 7, and my search for meaning to life began as my mind became open to unlimited possibilities and the universe.
At the age of 11, after the loss of my granddad, I was introduced to my first spiritualist medium who told me about the philosophy and beliefs of spiritualism. It was soon after that I came to understand that I was aware of those in the spirit world and had intuitive abilities. However it was not until the age of 16 when my nan died that I fully understood my psychic abilities. Six months after the loss of my nan I went to a demonstration of mediumship, (at the time I was sceptical and angry and had only gone along to look after my mum as I feared she was going to join a cult). The medium picked me out of 80 people and gave me evidence from my nan that literally changed my life! She was convinced that the spirit world had work for me and I would be a medium in the future.
I got my first tarot deck at the age of 18 when I started practising tarot readings on my work colleagues. The readings evolved and more often than not the spirit world would be involved in the readings. My latter teen years were dedicated to sitting with the spirit world. I was invited to join a local circle where I was helped and introduced to local spiritualist churches. At 19 I was the youngest working medium on the circuit.
My passion is in understanding and developing all that is psychic, mediumistic and spiritual. I am coming to the knowledge that these elements are separate but deeply connected. After 20 years of knowing the spirit world I am keen to help others feel the magic of how the spirit can change and enhance everyone's life. It's time to lift the limits and boundaries we place on the other world, to embrace the potential of what the power of our spirit can achieve.
My work has taken me all over the world, as far as Australia and Iceland. I wrote a monthly article in a Spanish magazine and have been featured on radio. I worked at the SAGB and have been a guest tutor at the Arthur Findlay College.
Now I live in London, and am fortunate to work for The College of Psychic Studies. I offer one-one mediumship readings, and teach trainings and courses in psychic and mediumship development.
I am blessed to meet and work with the most amazing people. I think it's a wonderful privilege be a medium and tutor. There really is no greater reward than serving the soul.

Coming up with Daniel Pitt
Daniel Pitt

Courses

Intermediate

A 10-week livestream intermediate course for those keen to work on their skills of perception in order to offer healing and therapeutic one-to-one readings.

Daniel Pitt

Courses

Foundation

Ready for the journey of a lifetime? This 10-week online foundation course is an exploration of your intuitive gifts and what it means to walk the spiritual path.

Daniel Pitt

Courses

Beginner

In these 10 weeks, you'll learn to harness the power of your intuitive awareness, discover your soul's voice and how to follow it on your life's path.
See our full What's On Calendar