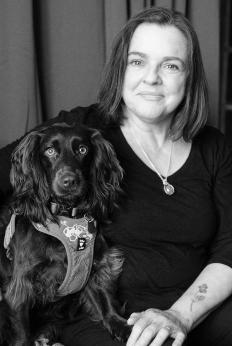 Dr. Rebecca Beattie brings two decades of experience, as both writer and magical practitioner, to this work. Having grown-up on Dartmoor, she draws her inspiration from nature and from the folklore, and ritual practice, to be found in many different cultures. She is the high priestess of a Gardnerian Wiccan coven and, by day, a professional in a drug and alcohol treatment charity.
She previously trained in psychic development and mediumship at The College of Psychic Studies, and loves nothing more than to share her passion for creativity, magic and spell craft. Her previous books include Nature Mystics: The Literary Gateway to Modern Paganism, which traces the literary origins of the 20th century revival of pagan traditions; and the highly acclaimed The Wheel of the Year: Your Nurturing Guide to Rediscovering Nature's Seasons and Cycles, which was published by Elliott and Thompson in 2022. She also wrote Practical Planetary Magic (2023) and the forthcoming: The Way Through The Woods: Navigating Life's Twists and Turns Using Nature as Your Guide (April 2024).
Coming up with Dr Rebecca Beattie
Dr Rebecca Beattie

Talks

Open to all

Love spells have long captured our imagination... but do they work? This fascinating livestream talk addresses this intriguing question and many more.

Dr Rebecca Beattie

Workshops

Open to all

Get to grips with the fundamentals of divination using pendulums, ink scrying, oracle cards and tarot in this experiential 2-part livestream workshop.

Dr Rebecca Beattie

Workshops

Open to all

Casting a circle, salt blessings, special talismans: discover the many forms of protection magic - and try them out yourself - in this in-person workshop.
See our full What's On Calendar