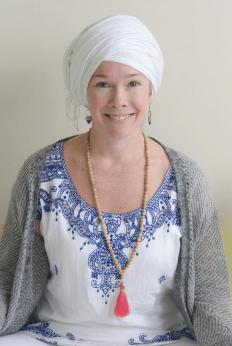 Gemma Bliss has been teaching kundalini yoga as a RYT500-teacher since 2010. She has an MA in the Traditions of Yoga and Meditation from SOAS (the School of Oriental and African Studies) with Distinction.
Gemma was born in Iran, attended school in Zimbabwe, university in South Africa, and has since lived in Japan, France, India and London (where she is now). She has completed numerous certifications in various healing modalities, which she brings as a wealth of wisdom to her kundalini yoga classes and workshops at the College. 
Gemma plays the sarangi (an ancient stringed instrument from north India) and the harmonium, and is a strong advocate of the healing power of sound and mantra. She draws on sound - or naad yoga - to bring a depth of vibrational healing to her workshops.

Discover more about Gemma Bliss on her kundalini yoga blog (link opens in a new window).
Coming up with Gemma Bliss
Gemma Bliss

Talks

Open to all

Start the new year on a bright note with this livestream moving meditation class to release the old and cultivate light, uplifted frequencies.

Gemma Bliss

Talks

Open to all

Join us in-person for this Valentine's Day kundalini yoga class to cultivate self-appreciation and love.

Gemma Bliss

Talks

Open to all

This livestream dynamic meditation class establishes you in the energy of abundance through mantra, movement and music.
See our full What's On Calendar