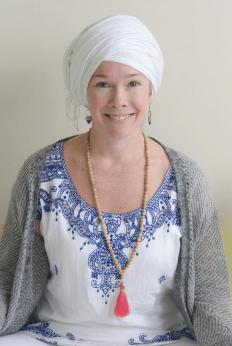 Gemma Bliss has been teaching kundalini yoga as a RYT500-teacher since 2010. She has an MA in the Traditions of Yoga and Meditation from SOAS (the School of Oriental and African Studies) with Distinction.
Gemma was born in Iran, attended school in Zimbabwe, university in South Africa, and has since lived in Japan, France, India and London (where she is now). She has completed numerous certifications in various healing modalities, which she brings as a wealth of wisdom to her kundalini yoga classes and workshops at the College. 
Gemma plays the sarangi (an ancient stringed instrument from north India) and the harmonium, and is a strong advocate of the healing power of sound and mantra. She draws on sound - or naad yoga - to bring a depth of vibrational healing to her workshops.

Discover more about Gemma Bliss on her kundalini yoga blog (link opens in a new window).
Coming up with Gemma Bliss
Gemma Bliss

Talks

Open to all

This live, online class clears our electromagnetic field and builds protection for a healthy spiritual practice.

Gemma Bliss

Talks

Open to all

Draw out deeply held stress and tension from the body for deep relaxation in this live, online class.
See our full What's On Calendar