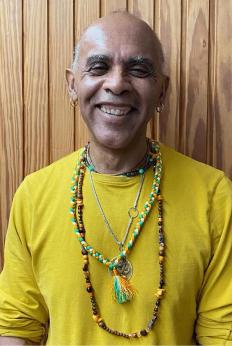 Jan was born in Ireland in 1959 but has lived all his life in the UK. In the 1980s he spent time in the entertainment business as a dancer, singer and mime. He now divides his time between London and West Cork, where he continues to create and be inspired by the landscape and ancient tales of other worlds, which is a main theme of his work. 
He has always tried as an artist to be true to his form and style, changing when and only when he has felt that it was time to experiment and try different media. He is inspired by the indigenous artists and shamanic art of Latin America and African art in general, as well as ancient Celtic knot work; the mystical and unseen appeal to him. 
Exhibitions to date include Portico Gallery London (2013-2014), Bridge Cafe London (2014), CGP Gallery London (2014), Outsider Art Fair Paris (2014), Reggio Emilia Italy (2015), Bethlem Gallery (2013-2017), Barking Community Arts Centre (2015), Menier Gallery London (2016), Ortus Learning and Event Centre London (2015-2016), Stratford Library London (2016), Dragon Cafe London (2016), Oxford Museum Gallery (2016), College of Psychic Studies (2016), Crawford Art Gallery West Cork (2016), The Hermitage Museum Outsider Art Gallery Amsterdam (2017).