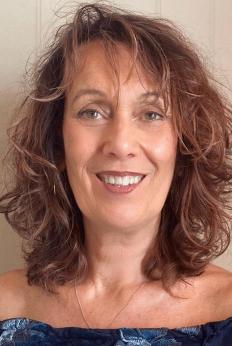 From Egyptian Greek and British parents, I grew up in the North East of England. My first encounter with spirit was at age 4, unsure really of what I was seeing in my church school graveyard. After years of encounters that sent me running away in fear, I was finally stopped in my tracks after a series of intense encounters that led me to explore how to make it stop.
Needless to say, after exploring I didn't want to make it stop and I've been enjoying working as a spirit portrait artist clairvoyant all over the world for over 30 years. My greatest passion however is being able to teach the things that spirit inspires me with, including psychic art, creativity, wellbeing, self-confidence and empowering people.
Drawing identifiable portraits of loved ones in spirit and spirit guides is an experience like no other. With it comes a connection of love from spirit that helps to bring healing to those left behind in grief or those in need of support and guidance.

My spiritual study began in 1990 at the SAGB, where I became qualified and also tutored courses in psychic art. I feel privileged to have studied under the wing of the world-renowned psychic artist Coral Polge as well as mediumship tutors Mary Poulton and Ivy Northage. It was a great honour to be asked by Coral to stand in and demonstrate spirit portraits in her place several times during her illness, and then again after she passed away. In 2002 I was honoured again to be invited to work at The College of Psychic Studies, which to this day has offered valuable experiences and added depth to my work.
My book and CD The Art Of Being Psychic, published in 2006, is the first book to guide the development of psychic art, using right brain awareness. My second book Mandala –The Art Of Creating Future, pioneers creation and use of envisioning Mandalas as a tool to manifest goals. Both books are still available through Amazon and used by students today.
I continue to create content and write, as well as leading workshops, courses and retreats in my field of experience. My work naturally includes personal development, which goes hand in hand with spiritual development. I love helping those who are interested in developing their spirituality and extrasensory gifts, and I have been involved in national and international media with the aim to highlight these abilities we all have as a birth right waiting under the surface. As an Ayurvedic Health Educator, I have a keen interest in well-being, quantum physics and science. It's heart-warming to watch outcrops of science these days leaning in more favourably towards metaphysics.
There's a gallery on my website of portraits I've drawn for clients over the years, who were kind enough to share validating photos afterwards. I am often told it's comforting to receive evidence that loves ones can connect from spirit, share memories of their life, and, of course, ultimately show their faces in a spirit portrait. Something solid and uplifting to take home, especially when spirit quite often show themselves youthful and healthy.

Coming up with June-Elleni Laine
June-Elleni Laine

Workshops

Foundation

Discover how enjoyable - and fascinating - it is to draw the faces of those in Spirit in this 2-part livestream workshop for foundation-level and above.

June-Elleni Laine

Courses

Open to all

Want to be more intuitive, predictive and creative? Join June-Elleni for this colourful 8-week online course that focuses on developing your ability with psychic art.

June-Elleni Laine

Workshops

Open to all

Harness your innate creativity to enrich every aspect of your life in this experiential livestream workshop.
See our full What's On Calendar