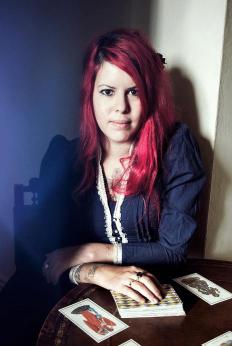 French born Laetitia Barbier is an intuitive counsellor and cartomancy enthusiast with a great passion for the human soul. Sensitive to powerful iconography, she studied art history at the Sorbonne, and has been working professionally in the arts for over a decade. She had her first tarot epiphany at the age of 11, when she bought her first Marseille Tarot deck at a Parisian tobacco shop.
Laetitia is programming director and head librarian of Morbid Anatomy in New York. Her book Tarot and Divination Cards: A Visual Archive was published by Cernunnos in December 2021.
Read more about Laetitia in our Tarot Tales with Morbid Anatomy's Laetitia Barbier interview.
Photo: Shannon Taggart