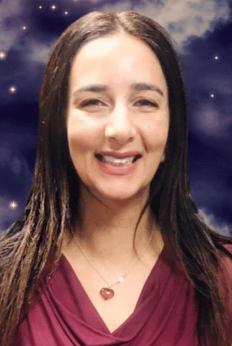 I trained as a dancer for a number of years and then studied musical theatre in Covent Garden, learning drama and singing, performing in a variety of dancing and singing roles. 
My mediumistic ability manifested itself from early childhood. Spirit communication was a constant part of my life, sensing, seeing and hearing spirit, hearing the voices outside my head and seeing spirit in solid form. 
I would often watch my animals react to my experiences. I would glimpse future events within the present, as time lines would shift, I often unnerved the people around me, so I tried very hard to suppress my natural abilities.
As time progressed I realised that I could no longer ignore my spiritual 'calling'. I decided to learn to control my abilities, training at The College of Psychic Studies, the Arthur Findlay College and the SAGB.

Coming up with Maria Antoniou
Maria Antoniou

Courses

Beginner

Join us for this 6-week online introductory course that is aimed at guiding you into an exploration of your intuitive and psychic abilities.

Maria Antoniou

Workshops

Foundation

This mini online workshop for students of a foundation level and above helps you to get to know your guides, who they are and how they can work with you.
See our full What's On Calendar