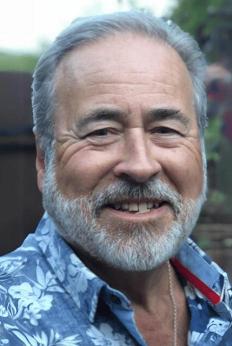 Born as an over-sensitive second child to musical parents the hands figured a lot in what it meant to be expressive in my family nurture. I was sensitised to all things spiritual through my own maternal grandfather who enjoyed reading books from Buddhism to communism and human potential, thereby realising his own humanistic, spiritualistic home-spun philosophy by becoming a Spiritual yoga teacher in the 1950s.
My reflective backdrop was, 'use your hands and perform in some way'. My mother and father were both pragmatic and practical, so it is hardly surprising in my formative years and through my educational choices, that I developed a passion for not just what the hands could do, but how they translated my potential talents as a good sportsman and as an artistic and musical youth.
I studied at Middlesex University in the 1970s and became a primary school teacher. My first job developed my enthusiastic teaching style and a deeper understanding of how and why children who expressed their 'inner nature', also became happy and enthusiastic learners. This dynamic became the vehicle of my teaching passion lasting some 25 years and ending as a School Inspector. During this time, I married another teacher and between us bought up three very expressive, creative, individualistic children. Teaching, learning and personal development are still vocational passions for me as I teach, write, demonstrate and explain palmistry and personal development, to audiences of all ages.
During my teaching career my passion for palmistry grew, fuelled by questions of how and why the hands should express so much more about our own emotional, physical and spiritual individuality. This interest later became an obsessive journey concerning 'evidence and proof.' From cavemen's hands that made individual 'hand signatures' on cave walls to today's understanding that they reflect patterns of our own unique programme. They show the potential and predispositions we have all been given.
My hand studies over many years began to reveal the biological science links within the subject. The language of the hand is very unique. Like lines in a 'Life-time script' I found I had a gift of interpreting people's hands and lines. Throw in my close call with the 'other side' through several road traffic accidents, and some deep pain concerning personal losses, my body and brain severely shaken-up, and my personal life disintegrating as a result, It would seem a recipe for deep-depression, disaster, disintegration or a possible resurrection? 
I believe that whatever happens to us in life, we must never lose our ability to express our own particular individuality. It is never too late to become what you can imagine.
I am now one of UK's high profile Master Palmists. I am well known from my appearances on This Morning, creating the first TV palmistry phone-in.
I was the resident palmist on Granada's ground breaking daytime Psychic Show. My first break was on the Paul McKenna show in 1995 whilst still working as a School Inspector, when I predicted that Paul would be best known for publishing books…..the rest is history. 
I have written for most of the national newspapers and numerous magazines, particularly Spirit and Destiny.
I teach palmistry courses at The College of Psychic Studies as a tutor and am also consultant. I am also the Vice President of the British Astrological and Psychic Society and business tutor for the SWA BTEC award, in Spiritual Provision.
Coming up with Robin Lown
Robin Lown

Courses

Open to all

Learn to read more than just the life and love lines and discover the connection between the hands and the brain in this 10-week online palm reading course.
See our full What's On Calendar