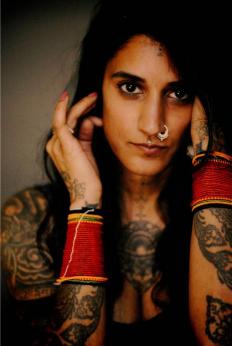 Highly influenced by her Indian heritage and frequent trips to the country, Saira Hunjan's work often depicts images of temples, nature, animals and Goddess figures. Her medium of choice is ink, which she has applied to both paper and skin.
In creating alternate ways of seeing, her work aims to blur the boundaries between ritual and reality and the spiritual, in a desire to bridge the gap between the physical and the metaphysical worlds.
Saira is an artist specialising in visionary art and the creator of the The All Seeing Heart Oracle published by Watkins.
She practices a devotional path.
Coming up with Saira Hunjan
Saira Hunjan

Workshops

Open to all

Tap into your divine creativity in this intuitive and heart-centred in-person workshop.
See our full What's On Calendar