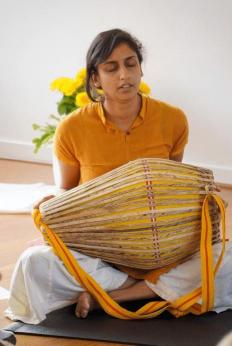 Seven years of intense yoga practice and teacher training in the UK and India has led Sonya to teach holistic yoga to all in workshops, classes and retreats. 
Parallel to her yoga journey, Sonya has explored the effects of mantra chanting on the body mind connection. The chanting of the mantras in the form of devotional kirtan (music meditation) deeply resonates in her spiritual practice and she has become one of the few female mridangam (Indian drum) players in the world. Sonya regularly shares Saadho kirtans in the UK, Europe and India, taking people on a journey to deep inner silence through mantra and kirtan.
Over the past five years, Sonya has travelled to India regularly to deepen her practice and to lead workshops and retreats on mantra movement and meditation. Together with friends in India and the UK she is building a community eco-system for spiritually aligned seekers which she is spearheading in the UK.

Sonya was also a practicing commercial property lawyer in the UK before deciding to pour her full life energies into sharing body movement, mantra and meditation.