Throughout our human history, our health and wellbeing has benefited from the wisdom, insight, experience and skills of gifted individuals. These individuals include doctors and surgeons as well as shamans, naturopaths, Reiki masters, energy workers, crystal healers and herbalists. When these treasured healers pass on from this physical world, we have not lost their immense gifts. In fact, their vast collective healing knowledge is more readily available to us than it ever was before. This is because they now join us with the Spirit Doctor Team.
Who are the Spirit Doctor Team?
The Spirit Doctor Team are your guides, your healers, your support network. They are a multidimensional collective of light beings who once walked the earth plane as physicians, healers, and shamans. This group of spirit healers continues to work with us from Spirit. We can all access their immense healing wisdom and insight, whenever we wish. Furthermore, we can call on them for support and healing with physical, emotional and psychic issues not just for ourselves, but for our loved ones and, if applicable, our clients too.
A letter to you, with love from the Spirit Doctor Team
Susan Gash facilitates the Spirit Doctor Team Practitioner Programme at the College. This extraordinary eight-month programme is open to all who feel the call. It is a journey of profound healing, self-realisation and integration. The letter below is a clarion call from the Spirit Doctor Team to you. The question is, are you ready to hear it?


Listen deeply within.
We are collectively waking up from a dream spell and beginning to remember who we truly are and who we have been before. As the New Earth begins to take form, all healers are being called forward. Are you feeling the call?  
Whether you are a nurse, counsellor, artist, teacher, or energy worker, you are being summoned to step up and meet these times.
The Spirit Doctor Team Practitioner Programme, a high vibrational eight-month professional training programme, is one way to assist with sharpening and clarifying your gifts while expanding your capabilities to include multi-dimensional healing.
Every year, the healing work is expanding. Spirit Doctor healing is now being brought into school rooms, corporate settings, as well as practitioner practices. We invite you to explore the programme and discover if it is right for you.
Now, more than ever, additional Spirit Doctor Team practitioners are needed. Lean in and listen deeply, discover if this programme is for you.

The first Spirit Doctor Team Practitioner Retreat was held in Mallorca, Spain, in 2022. Graduates of the three previous programmes came together in community to give and receive Spirit Doctor Team healing while saturating in good spirited company. It was a magical time for all. You will be invited to do the same when you complete your Spirit Doctor Team Practitioner Programme.
SUSAN GASH
Spirit Doctor Team Practitioner Programme Director
--

To join the Spirit Doctor Team Practitioner Programme, it is not necessary to have completed the Working with the Spirit Doctors & the Spirit World or Deepening Your Work with the Spirit Doctor Team & the Spirit World courses, although you may like to take these courses beforehand to enjoy their respective six-week healing journeys. We are all unique, we all enjoy different pathways to our destination!

Are you called? Join us...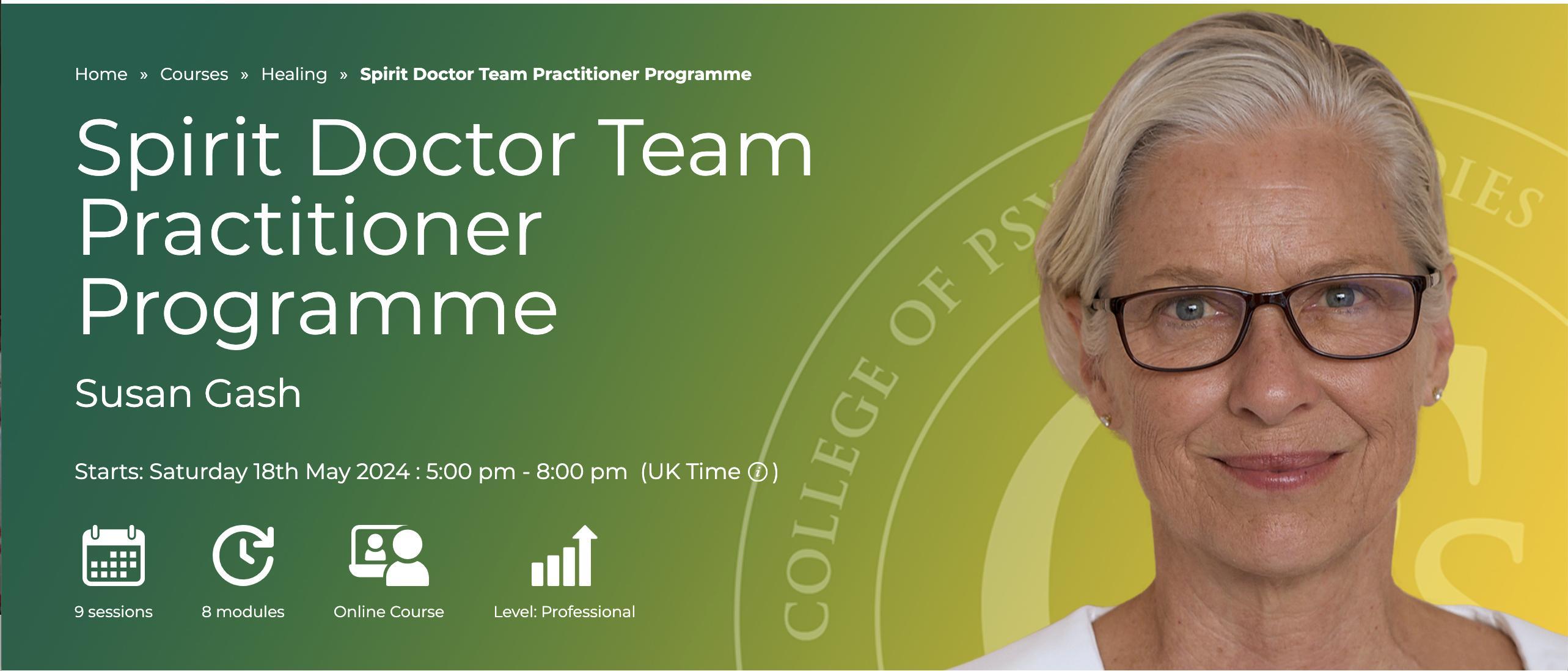 Join our newsletter to receive updates on our Spirit Doctor Team events, classes, talks and more.