We invite you to settle in for some magical myths and fierce legends with Swedish storyteller and independent scholar of Norse mythology, Andreas Kornevall.
In the ancient storytelling tradition, Andreas will transport us to wintry lands of trickster giants, sea kings, goblins and elves, where sleighs soar above glittering snow-capped peaks and the Northern Lights illuminate the sky. Through spoken word and poetry, accompanied by the melodic strum of Andreas' Baltic Psaltery, a cousin of the lyre, you'll discover the rich Nordic tradition of storytelling.
So dim the lights, come gather near our mythical fire beneath the great eaves of the Mead Hall, and enjoy some enchanting entertainment served the olden way.

About Andreas Kornevall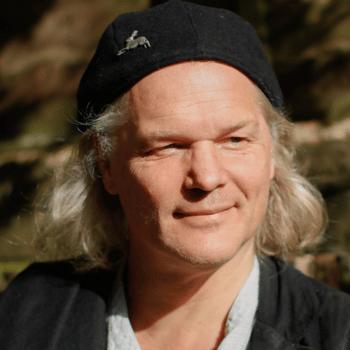 Swedish author & ecologist Andreas Kornevall has worked with BBC radio, archaeological society Sussex Past & learning centres across the UK to revive the ancient Pagan Anglo-Saxon Creation Myth.
Read more about Andreas
This content is free for our members to enjoy.
Already a member? Just log-in to access the recording.
Read more about membership benefits.