In this special certified masterclass - in collaboration with the Institute of Noetic Sciences (IONS) - streamed live from the Andean Mountains in Peru, Puma Quispe will teach you how to navigate the three realms of the Andean Cosmovision to become a truly multidimensional being.
In the Andean tradition, the cosmos is divided into three realms:
Hanaqpacha: realm of the divine and spirit, represented by the Condor
Kaypacha: physical realm of material manifestation, represented by the Puma
Ukupacha: realm of consciousness and inner world, represented by the Serpent

Puma's ancient lineage has developed the ability to consciously move through these realms.
In this 2-hour livestream masterclass, Puma will initiate you into this wisdom. He will take you through a traditional Andean ritual, designed to bring in energies that vibrate at the highest frequency. You will learn how to become a multidimensional being, applying to your own life rituals and techniques that have been used for centuries by Puma's ancestors. He will also demonstrate how to read leaves for answers and prepare a solstice preparation ceremony.
Traditional Andean Medicine Man Puma Quispe Singona is a member of the Elders Council in Chinchero, Peru. As a recognised holder of ancient wisdom, he plays an active role in world affairs by sitting on several international and indigenous councils, including the World Wisdom Council.
Through this work, Puma ensures the contribution of indigenous wisdom toward strengthening the vision of global harmony and healing. Trained by his grandfather, Don Maximo, from the age of 6, Puma has a love of sharing this deep wisdom and has been described as "magical, compassionate and wise beyond his years".
Join us for this special masterclass to learn how to bring healing and transformation to your life using the sacred wisdom of the Andean Cosmovision.
You will receive:
A 2 hour masterclass on the Andean Cosmovision, streamed live from the Andes
A link to the recording to revisit whenever you wish
A certificate of attendance
--
This masterclass will be recorded. A link to the video recording will be available for replay to those who book. Please see our terms for more information.

--
Previous participants say:
"This class with Puma was amazing, beyond words! What we learned in class, the experiences were so deep."
"Very well presented, authentic, clear, knowledgeable and fascinating. Plus delivered in an accessible way so that we can use the information in our own lives and to help others." 
"I am so grateful to Puma and all who worked to bring this class to us around the world and feel privileged to have more understanding about the spirits of the Andes and their communities."
"Thank you to Puma and all the friends in spirit who joined us, it was a really enjoyable evening. Puma was very generous with his teaching and it was great to hear all about the Apus and how to work with them."
--
This event will be live in our online classroom
All you need to take part is a good internet connection and a computer with a webcam, microphone and Zoom.
On booking this event, you will receive an email with the Zoom link to access it. Remember to check your spam folder if you don't receive this confirmation email in your inbox.
Please send us a message if you have any questions. We hope you enjoy the event!
About Puma Quispe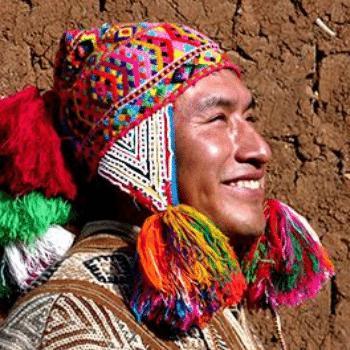 Fredy 'Puma' Quispe Singona has trained in Andean ceremonies and rituals since he was a young boy. He is a spiritual leader both internationally and in his own community of Chinchero.
Read more about Puma
Register your interest
This event has already taken place, please register below and we'll let you know when it runs next.