The current global circumstances we are all experiencing have bought into focus the undeniable shift that is happening on our planet and in our consciousness. 
Where are we going, and how can we move forward? Our ancient wisdom keepers have the answers that can guide us to clarity and healing.
Traditional Andean Medicine Man Puma Quispe is a member of the Elders Council in Chinchero, Peru. As a recognised holder of ancient wisdom, he plays an active role in world affairs by sitting on several international and indigenous councils, including the World Wisdom Council. Through this work, Puma ensures the contribution of indigenous wisdom toward strengthening the vision of global harmony and healing.
We are delighted to welcome Puma back to the College. In this livestream talk, he will be sharing his insights about the power of this new era and the awakening that is calling each of us to create a better life for ourselves and the generations to come.
In this live, online talk, we will learn about the prophecies which have foretold of a new consciousness and awakened humanity, and how connecting with our ancestors and our ancestral traditions will help us all on our journey in life.
Puma, who was trained by his Grandfather since the age of six, is described as "magical, compassionate and wise beyond his years" with a deep reverence for Pachamama (Earth Mother) and an ancient understanding of the Cosmos.
Join us for a truly special sharing with Puma – we can all benefit from his immense wisdom in these times.
--
This lecture will be recorded. A recording will be available to those who have booked.

--
Previous participants say:
"Fascinating and insightful. Puma Quispe is very passionate about his culture and this makes his talks very engaging."
"I really enjoyed it - would love to know even more about Andean shamanism. Puma is a lovely soul and his enthusiasm shines through."
"Puma was very engaging with an authentic loving nature. It was delivered with passion and really highlighted presence. and the cosmovision of the mother sun. I was so touched."

--
This talk will be live in our online classroom
All you need to take part is a good internet connection and a computer with a webcam, microphone and Zoom.
On booking this talk, you will receive an email with the Zoom link to access it. Remember to check your spam folder if you don't receive this confirmation email in your inbox.
Please send us a message if you have any questions. We hope you enjoy the talk!
About Puma Quispe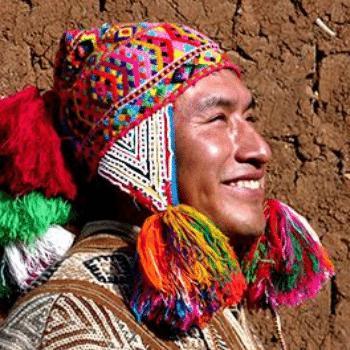 Fredy 'Puma' Quispe Singona has trained in Andean ceremonies and rituals since he was a young boy. He is a spiritual leader both internationally and in his own community of Chinchero.
Read more about Puma
Register your interest
If you're interested in finding out more about this talk, please register below and we'll be in touch with more information once available.