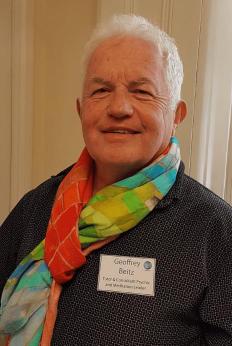 I was born in South Africa and came to England in 1977, after successfully completing an Honours degree in Fine Arts. I have always been drawn to spiritual matters, which began with my interest in the tarot. 
I bought my first tarot cards in 1973, the Rider-Waite deck which I found puzzling, fascinating and alluring. I have always had a deep passion for the tarot and over the years have collected about 150 decks. I completed an advanced course in tarot studies after arriving in England. This further extended my involvement with the tarot which has constantly evolved over time. 
My interest in psychic development came later. Initially I participated in a psychic development circle in Tunbridge Wells. This proved to be a stepping stone for me and extended my passion for psychic matters. I then joined the School of Insight & Intuition in Richmond. It was a psychological spiritual approach, and I spent two years there. 
Through a chance discovery, I found out about the College of Psychic Studies after attending a workshop with Gerrie March. That proved to be a most auspicious meeting which changed my life! I trained with Gerrie March for over seven years and through her guidance and sound advice I was able to develop as a psychic medium. It was a challenging and wonderful journey of self-discovery and led me to appreciate my special vocation. I then worked as a probationer at the College for a year, completing 100 sittings to prove my capabilities. That enabled me to work as a professional psychic medium at the College. 
My growth and development as a psychic medium will always continue, and that is what is so fascinating about the work. I also volunteered to lead the lunchtime meditations at the College. This helped me to find my "voice" and greater confidence in my abilities to communicate and now teach as well. As a meditation and psychic development teacher at the College, it is very gratifying to watch students develop and extend their abilities, and to see each find their own unique voice and way of working. 
My style of teaching is gentle and encouraging. During psychic consultations, I work spontaneously, seeking inspiration and guidance from spirit to offer a spiritual and healing approach that seeks deeper understanding and meaning for the sitter. This may hopefully guide them towards ultimately finding their own solutions, thus empowering them in their life choices. 
My interest in Jungian psychology, shamanism, the Kabbalah, sacred geometry, fairylore, astrology, numerology, and Enochian magic have all contributed to my work in various ways. I often combine the tarot with my psychic mediumship, which seems to work seamlessly together, with the cards giving greater focus to aspects of the situation. Mediumship always offers its own unique voice from those in spirit, each time witnessing a small miracle in the making.

Coming up with Geoffrey Beitz
Geoffrey Beitz

Talks

Open to all

Are you sitting comfortably? Tune in every week to join us for our guided meditations - a moment to breathe, pause and settle. Members join free.

Geoffrey Beitz

Courses

Foundation

Want to be psychic? This 10-week livestream course will help you develop your psychic abilities, which can enhance your own life and the wellbeing of others.

Geoffrey Beitz

Courses

Intermediate/Advanced

Ready to go further? This 10-week livestream intermediate/advanced course is for those who wish to take their psychic skills to new levels of perception.
See our full What's On Calendar