This 6-week online course takes you on a bewitching journey throughout the Bible. It introduces you to a variety of biblical texts in which the female practitioner of divination and magic has been (mis)understood as a malevolent witch with far-reaching consequences, even up to this present day.
The topics that will be discussed are, for example, the various types of divinatory and magical practices, the sexualization and demonization of the female witch, the gender-stereotype, and the punishment of the witch.
This course further looks at the biblical figure of the witch in the wider context of female divination in the Ancient Near East.
The course concludes with an examination of the way in which these biblical passages were (mis)used in the early modern witch-hunts that festered on the British Isles and beyond, both in the literature and in the art of that period.
--
The classes on this course will be recorded. Recordings will be available to those who miss a class.
--
Previous participants say:
"Wonderful! An academic who really knows her stuff!! Interesting & thought provoking!"
"I loved it. Very informative, Alinda is an intelligent woman who has really done some in depth research."
"It was very well presented and interesting."
"Very informative and thought provoking."
--

Here's what to expect:
Course Schedule
There are 6 sessions for this course
| | | |
| --- | --- | --- |
| 1 | Wednesday 5th May 2021 | 7:00pm - 9:00pm |
| 2 | Wednesday 12th May 2021 | 7:00pm - 9:00pm |
| 3 | Wednesday 19th May 2021 | 7:00pm - 9:00pm |
| 4 | Wednesday 26th May 2021 | 7:00pm - 9:00pm |
| 5 | Wednesday 2nd June 2021 | 7:00pm - 9:00pm |
| 6 | Wednesday 9th June 2021 | 7:00pm - 9:00pm |
This course will be live in our online classroom
All you need to take part is a good internet connection and a computer with a webcam, microphone and Zoom.
On booking this course, you will receive an email with the Zoom link to access it. Remember to check your spam folder if you don't receive this confirmation email in your inbox.
Please use the same link to access each of your course sessions.
Please send us a message if you have any questions. We hope you enjoy the course!
About Dr Alinda Damsma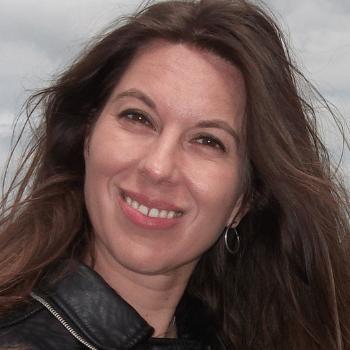 A lecturer in Biblical Hebrew at University College London, Dr Alinda Damsma's research interests include Jewish mysticism, and magic and witchcraft in biblical & post-biblical times.
Read more about Alinda
Register your interest
This course has already taken place, please register below and we'll let you know when it runs next.