This is an Advanced course for those who have completed The Sacred Forest, Andreas's Intermediate Seidr course.
A large part of this course will explore practical mediumship and oracular speech techniques through the traditional high-seat ceremony.
The course will focus on:
Alternate rune-rows such as the Younger Futhark (Viking Age), and the Old English Futhorc
Northern star-myths and hidden star constellations
How to create personal rune-sigil alphabets
Working with dream sigils
Exploring the oracular speech
Approaching the traditional high-seat ceremony
Gathering techniques of unconscious receptivity and trance states
Spirit songs and galder
Storytelling and the skaldic poetic metre
The aim is to have a small, convivial and focused group for those who are interested in developing and deepening their own practice.
Please note, some content may be prioritised over others and this will depend on the unique group dynamic.
--
We will not be recording these classes. One of the unique aspects of the College's online courses is that they are highly interactive. Participants are encouraged to discuss and share with the tutor and the group. These sharings can be very personal, and some may not feel comfortable with them being recorded. If you need to miss any sessions, your tutor will be happy to offer a brief outline of the material covered.
--
Previous participants say:
"The Best Tutor. The most interesting and knowledgeable course. Wanted to say thank you very much to Andreas."
"Loved this course, such interesting material and lots to learn."
"Andreas is fantastic!"
"Andreas has a gift for storytelling, and for teasing deeper meanings out of things you thought you were already familiar with. His breadth and depth of this subject made for mesmerising evenings."

--
There is no class on Monday 31 May 2021
Course Schedule
There are 8 sessions for this course
| | | |
| --- | --- | --- |
| 1 | Monday 24th May 2021 | 7:00pm - 9:00pm |
| 2 | Monday 7th June 2021 | 7:00pm - 9:00pm |
| 3 | Monday 14th June 2021 | 7:00pm - 9:00pm |
| 4 | Monday 21st June 2021 | 7:00pm - 9:00pm |
| 5 | Monday 28th June 2021 | 7:00pm - 9:00pm |
| 6 | Monday 5th July 2021 | 7:00pm - 9:00pm |
| 7 | Monday 12th July 2021 | 7:00pm - 9:00pm |
| 8 | Monday 19th July 2021 | 7:00pm - 9:00pm |
This course will be live in our online classroom
All you need to take part is a good internet connection and a computer with a webcam, microphone and Zoom.
On booking this course, you will receive an email with the Zoom link to access it. Remember to check your spam folder if you don't receive this confirmation email in your inbox.
Please use the same link to access each of your course sessions.
Please send us a message if you have any questions. We hope you enjoy the course!
About Andreas Kornevall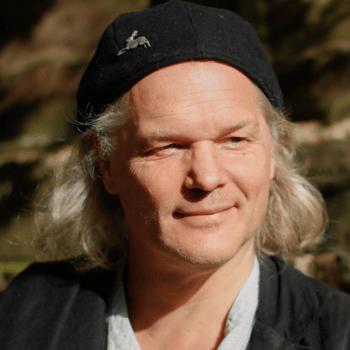 A natural-born storyteller and Seidr practitioner, Andreas Kornevall works with ancient Norse rituals and spirituality. His passion is unearthing forgotten folklore and endangered Norse languages.
Read more about Andreas
Register your interest
If you're interested in finding out more about this course, please register below and we'll be in touch with more information once available.