This Intermediate course has been created for those who have completed Andreas's Foundation Seidr course, The Grove of Hidden Roots.
In this course we deepen the work with practical exercises and applications.
During this 8 week course we will focus on:
Runes: Castings, spreads, rune-readings, bind-runes and working with sigils, insignias and personal emblems.
Ritual: Exploring how life supporting rituals can heal parts of ourselves and our greater community. Including an in-depth enquiry and practical training working with the old high seat ceremony and the rune labyrinth.
Fylgja Dreaming: Inner journeys exercises tracking our animal allies.
Storytelling: working with stories, sagas, legends, poetry, visualisation, meditation and music to tap into an intuitive knowledge. Learn how to tell a mythic narrative with your own personal voice and experience. Stand tall in the face of vulnerability.
Discovering the Lost Gods of Wonder: Exploring local folklore and lore of plants, trees and old folk-magical practices of England and Northern Europe.
The Anatomy of Viking Art: the shapes behind the rune-stones, medieval rune-rows, talismanic art, animal carvings and paintings, with a special focus on the dragon.
--
We will not be recording these classes. One of the unique aspects of the College's online courses is that they are highly interactive. Participants are encouraged to discuss and share with the tutor and the group. These sharings can be very personal, and some may not feel comfortable with them being recorded. If you need to miss any sessions, your tutor will be happy to offer a brief outline of the material covered.
--
Previous participants say:
"A wonderful course, taught at real depth by a master of the tradition. It was a privilege to attend. The group was also great (even with the distance of Zoom), and I looked forward to the sessions each week. Highly recommended."
"There are teachers and there are practitioners. Andreas is both. Thanks to his competent and generous approach, this class was just what I was looking for, and more. Andreas gracefully and mysteriously wove a web of diverse threads into the magical tapestries of Norse cosmology, mythology and magic, revealing a new world of imagination for both spirit and soul. This was my first experience with Zoom in the context of a multi-week class like this, and I was surprised at how little this affected the quality of intimacy - as I experienced it - with the group. I feel fortunate to have found this class when I did."
"I love Andreas's teaching."
--

Course Schedule
There are 8 sessions for this course
| | | |
| --- | --- | --- |
| 1 | Wednesday 2nd June 2021 | 7:00pm - 9:00pm |
| 2 | Wednesday 9th June 2021 | 7:00pm - 9:00pm |
| 3 | Wednesday 16th June 2021 | 7:00pm - 9:00pm |
| 4 | Wednesday 23rd June 2021 | 7:00pm - 9:00pm |
| 5 | Wednesday 30th June 2021 | 7:00pm - 9:00pm |
| 6 | Wednesday 7th July 2021 | 7:00pm - 9:00pm |
| 7 | Wednesday 14th July 2021 | 7:00pm - 9:00pm |
| 8 | Wednesday 21st July 2021 | 7:00pm - 9:00pm |
This course will be live in our online classroom
All you need to take part is a good internet connection and a computer with a webcam, microphone and Zoom.
On booking this course, you will receive an email with the Zoom link to access it. Remember to check your spam folder if you don't receive this confirmation email in your inbox.
Please use the same link to access each of your course sessions.
Please send us a message if you have any questions. We hope you enjoy the course!
About Andreas Kornevall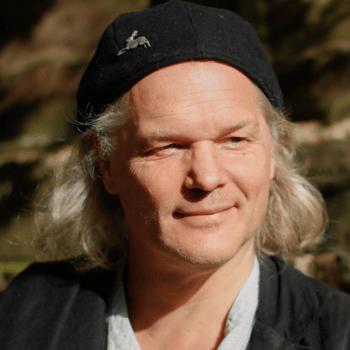 A natural-born storyteller and Seidr practitioner, Andreas Kornevall works with ancient Norse rituals and spirituality. His passion is unearthing forgotten folklore and endangered Norse languages.
Read more about Andreas
Register your interest
This course has already taken place, please register below and we'll let you know when it runs next.