The exhibition runs from Saturday 5th June to Friday 6th August 2021, 11am - 5pm, Tuesday-Sunday (CLOSED MONDAYS). If you're in London, please do drop by. There is no need to book a time slot. 
The College of Psychic Studies invites you to Strange Things Among Us: an exhibition that promises to fulfil your curiosity with the ethereal and ghostly, as well as offering a little something out of the ordinary as we emerge from lockdown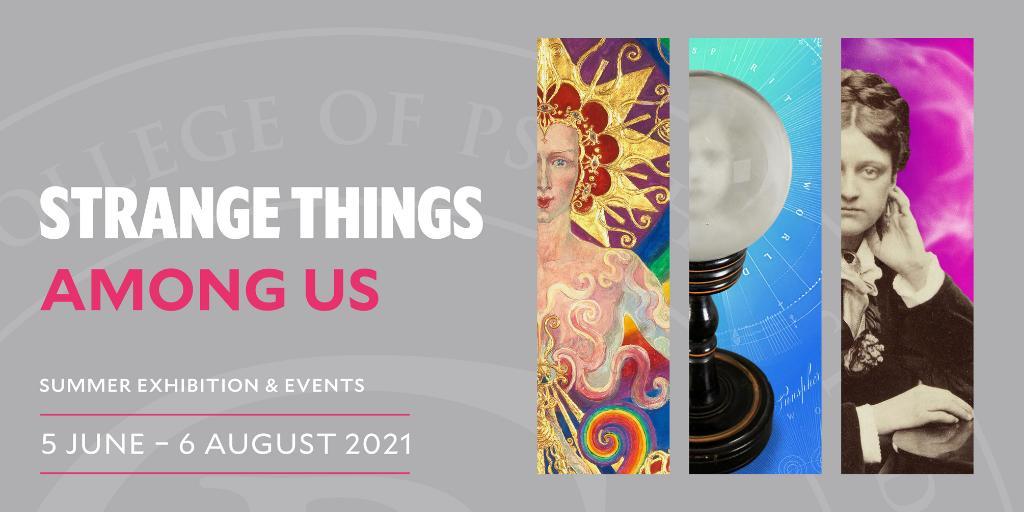 Through artworks, photography and artefacts, the show will take visitors on a journey to discover how the invisible has been portrayed from Victorian times to the present day. An intriguing display of spiritual belief, scientific theories, artistic endeavours and psychical investigations will prompt you to contemplate the unseen and think about the world around us and beyond. By focusing on what we cannot normally see such as energies, auras, souls, visions, spirits and ghosts, our aim is to prove that it is the strange things among us that have the power to evoke awe and wonder in our lives.
The College of Psychic Studies occupies six floors of a Victorian townhouse in South Kensington, London, close to the Natural History Museum. Its most famous former President is Sir Arthur Conan Doyle, Spiritualist and creator of the iconic detective Sherlock Holmes. In 1926, with the help of the College's vast esoteric library, he wrote a two volume History of Spiritualism and his Professor Challenger novel, The Land of Mist. Both included prominent spiritualists connected to the College's history.
With a nod to Conan Doyle and the College's literary connections we decided to celebrate the skilled raconteurs that over the centuries have graced societies, clubs, dining rooms and parlour firesides with their encounters of the spirit world. Sharing the extraordinary has always captivated audiences and by taking its title from a book of ghost stories which was published in 1863 and recently discovered in the College library, Strange Things Among Us aims to continue that tradition. Photographs from the famous Ghost Club where members swapped experiences of supernatural happenings and never seen before relics relating to the prolifically reported hauntings of the Borley Rectory as well as highlighting the enigma of UFO sightings are all important features of the exhibition.
This will be a summer like no other where guests are invited to peer into a parallel world and ponder over the ectoplasmic apparitions in spirit photography, mediumistic and psychic drawings that pulsate with the otherworldly energies, ouija boards, spirit trumpets and planchettes from the darkened seance rooms. There will also be a chance to learn about the original spiritualistic influencers in a room that was once a laboratory for testing mediums and is now dedicated to the seers and scientists that shaped the history of the modern spiritualist movement.
A room devoted to Austin Osman Spare will undoubtedly appeal to those who are fascinated by the occult and magick. Spare was an artist of great talent and we offer a rare opportunity to study some fine examples of his work which will be accompanied by a large selection of important books on the occult including Aleister Crowley's Equinox and a first edition of Francis Barrett's The Magus from 1801.
Before stepping out into the real world again, there will be an opportunity to take a few moments of quiet contemplation in the meditative space of our Sanctuary, and for those who feel inspired by what they have seen we encourage entering our summer art competition. It focuses on the theme 'Inspiration from the Invisible' and digital submissions will be accepted until 15 August 2021. The winner will be announced on 31 August.
For anyone curious about the College of Psychic Studies there will be workshops by College tutors and visiting experts and an opportunity to meet the curators by joining one of the exhibition tours.
The College of Psychic Studies is an educational charity that began in 1884 under the name of the The London Spiritualist Alliance. As one of the oldest establishments of its kind, the nature of our work has evolved to incorporate a more general and widely-based exploration of consciousness beyond matter. It offers a comprehensive curriculum of courses and workshops as well as lectures and consultations with leading mediums, healers and experts in subjects as diverse as mediumship, numerology, astrology, tarot and palmistry.
The exhibition will run from Saturday 5th June to Friday 6th August 2021, 11am - 5pm, Tuesday - Sunday. If you're in London, please do drop by, there is no need to book a time slot.

Register your interest
If you're interested in finding out more about this event, please register below and we'll be in touch with more information once available.