Artist Sean Jefferson's work is instantly recognisable for its arcane references and occult symbolism. His paintings beckon us to consider themes such as the Kabbalah, tarot, Enochian, talismanic magic and more. In this fascinating livestream talk, Sean reveals the many layers of symbolism in his latest series of paintings, The Twelve Days of Christmas.
These 12 paintings are a continuation of over 30 years of painting and drawing as an expression of Sean's practical investigations into the occult. In this illustrated online talk, Sean invites us into a festive experience with a difference. He reveals the hidden meanings, archetypes and symbolism of each painting, which correspond to the verses of the Twelvetide. He'll also unpack the extraordinary findings of his extensive research on this Christmas carol.

The paintings lean into Psychedelic Visionary and Contemporary Symbolist Art as well as 1960s psychedelic aesthetics. Sean's personal practice has replaced chemical hallucinogens with the Qabalistic Middle Pillar exercise, as described in the Golden Dawn knowledge papers.
Book now and join Sean Jefferson for a visual feast, served with fascinating contemplations on The Twelve Days of Christmas. You may never hear this carol in quite the same way again!
Sean Jefferson's 12 paintings will be available for sale and to view at David Messum Fine Art, St. James's, London, UK from 29th November–22nd December 2023.

--
This talk will be recorded. A link to the full video recording will be available for replay to all those who book.
--
This talk will be live in our online classroom
All you need to take part is a good internet connection and a computer with a webcam, microphone and Zoom.
On booking this talk, you will receive an email with the Zoom link to access it. Remember to check your spam folder if you don't receive this confirmation email in your inbox.
Please send us a message if you have any questions. We hope you enjoy the talk!
About Sean Jefferson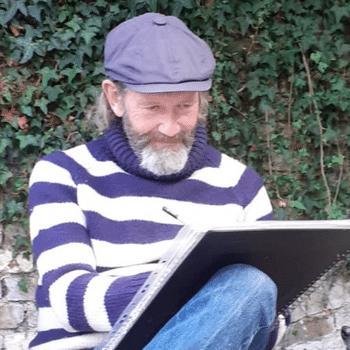 With interests that have included trance mediumship, microbiology, and Western Mystery Traditions, UK-based artist Sean Jefferson continues to progress his work with 'a deep Celtic spirituality'.
Read more about Sean
Buy Now
To secure your place on this talk click book now.
Price: £16.00
Become a member today and you will save £2.00 on your first ticket.
Additional tickets for this event charged at £16.00
Find out more about membership.