A questing soul, an eccentric sage, an unconventional baron and a dedicated colourist: the artist Baron Arild Rosenkrantz (1870–1964) defies and evades many categorisations. 
He was like his art: colourful, enigmatic and full of stories. All things mystical fascinated him right from childhood. He wanted to know more than science could explain; about the unknown and the invisible, the spiritual and the divine. That quest continued throughout his life and radiates out of his art.
Rosenkrantz wanted to be an artist and make it in the European metropolises. He succeeded in doing both. In Paris he exhibited his work at the seminal exhibition series Le Salon de la Rose + Croix at the age of 22, and in Britain he won great acclaim for his spectacular stained-glass designs. Being exposed to international influences had a palpable imprint on his brushwork: refined human figures share canvases with ferociously energetic abstractions of light and colour.  

Rosenkrantz's greatest source of inspiration was the Austrian thinker Rudolf Steiner, particularly Steiner's interpretation of the colour theories proposed by German poet and scholar Johann Wolfgang von Goethe. In Rosenkrantz's imagery, colours wind in and out of each other like dynamic, intangible explosions. The results are simultaneously harmonious and chaotic, radiant and bizarre.
Rosenkrantz's enthusiasm for spiritual thinking branded him as an outsider in his own time. Today, interest in him and his art is growing. Spiritualism has become mainstream, and mindfulness and meditation are flourishing practices in present-day society. On the art scene, subjects such as faith, spirit and occultism form the starting point of a wave of new artistic departures today. Viewed in that light, Rosenkrantz's spiritual universe is more relevant than ever.
The College is delighted that Baron Rosenkrantz's work is featured in its summer exhibition, Strange Things Among Us.

--
Please note, we will not be recording this talk.
--

This talk will be live in our online classroom
All you need to take part is a good internet connection and a computer with a webcam, microphone and Zoom.
On booking this talk, you will receive an email with the Zoom link to access it. Remember to check your spam folder if you don't receive this confirmation email in your inbox.
Please send us a message if you have any questions. We hope you enjoy the talk!
About Sarah Pihl Petersen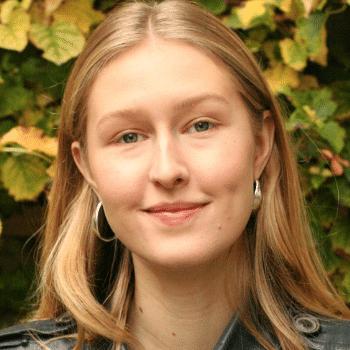 Curatorial assistant at ARKEN Museum of Modern Art in Ishøj, Denmark, Sarah Pihl Petersen is an experienced public speaker who holds a particular interest in ecocriticism.
Read more about Sarah
Register your interest
This talk has already taken place, please register below and we'll let you know when it runs next.