The ancient principles of Yin & Yang and the Chinese 5 Elements are still very relevant for us today. Discover how they can help us bring harmony into our daily life.
In this livestream workshop, you will enjoy a fascinating foray into this ancient Eastern energy system, which has been established for over two millennia. Its underpinning concepts offer insight, wisdom, guidance, health and healing.
Each of the 5 elements - Wood, Fire, Earth, Metal and Water - has a unique personality, or signature. Each influences our moods, likes and dislikes and how we behave. We tend to favour one element over another. However, it is when the relationship between all 5 elements is harmonious that we experience improved health and wellbeing.
In this online workshop, you will discover how to recognise the Chinese 5 elements in your daily life. This basic understanding will offer you a helpful and practical perspective on why we sometimes feel and act in the ways that we do. 
You will learn how to rebalance the 5 elements in order to restore harmony to your life, health and relationships.
To consolidate the topics covered in this workshop, you will also learn a short 5 element Tai Chi sequence that you can practice daily to support your return to harmony and balance.
--
We will not be recording this workshop. One of the unique aspects of the College's online events is that they are highly interactive. Participants are encouraged to discuss and share with the tutor and the group. These sharings can be very personal, and some may not feel comfortable with them being recorded.
--
Previous participants say:
"This workshop was VERY, VERY good."
"Doe explained a complex topic in a simple way. I thought I would have trouble keeping up. I would love to explore this topic in more depth."
"Great - and I would like to learn more!"
--
Here's what to expect:
--
This workshop will be live in our online classroom
All you need to take part is a good internet connection and a computer with a webcam, microphone and Zoom.
On booking this workshop, you will receive an email with the Zoom link to access it. Remember to check your spam folder if you don't receive this confirmation email in your inbox.
Please send us a message if you have any questions. We hope you enjoy the workshop!
About Doe Warnes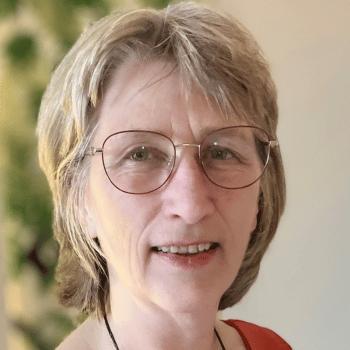 With a background in dance therapy, Doe Warnes is ideally placed to teach Anatomy & Physiology. She is also a Somatic movement therapist & educator and shiatsu practitioner.
Read more about Doe
Buy Now
To secure your place on this workshop click book now.
Price: £80.00
Become a member today and you will save £20.00 on this purchase. Find out more about membership.