This course is for individuals wishing to expand their horizons with their psychic and mediumistic abilities, as well as focusing on their own spiritual growth. Ideal for those who have completed Maria's Introductory and Foundation courses.
We will begin each session with a guided meditation/visualisation exercise. This will strengthen your communication with your guides or other higher beings. Sitting in the power of spirit also aids in your well-being.
Inner work will be undertaken within this course - one must delve into their own soul and their own well of knowledge to seek out answers.
Psychic readings are a skill that is required in this everchanging world. We will look at improving the psychic faculty with varied exercises, for example, to hone into different aspects of people's lives through picture readings, blind readings and one-to-one sittings.
Allow your mediumship readings to flourish by acquiring a solid technique that gives your sittings structure and form. We will work towards developing your accuracy to find those facts that create a strong and meaningful reading. Practical exercises will be given to push the boundaries of your mediumship.
--
We will not be recording these classes. One of the unique aspects of the College's online courses is that they are highly interactive. Participants are encouraged to discuss and share with the tutor and the group. These sharings can be very personal, and some may not feel comfortable with them being recorded. If you need to miss any sessions, your tutor will be happy to offer a brief outline of the material covered.
--
Previous participants say:
"Excellent teacher and course."
"Maria's guided meditations were beautiful and powerful. Also, I really appreciate her support and guidance during her course. I have just booked next level with her!"
"Maria is a great teacher and provides a really encouraging atmosphere. I highly recommend her to others. I always enjoy her classes."
--

Course Schedule
There are 10 sessions for this course
| | | |
| --- | --- | --- |
| 1 | Wednesday 22nd September 2021 | 4:00pm - 6:00pm |
| 2 | Wednesday 29th September 2021 | 4:00pm - 6:00pm |
| 3 | Wednesday 6th October 2021 | 4:00pm - 6:00pm |
| 4 | Wednesday 13th October 2021 | 4:00pm - 6:00pm |
| 5 | Wednesday 20th October 2021 | 4:00pm - 6:00pm |
| 6 | Wednesday 27th October 2021 | 4:00pm - 6:00pm |
| 7 | Wednesday 3rd November 2021 | 4:00pm - 6:00pm |
| 8 | Wednesday 10th November 2021 | 4:00pm - 6:00pm |
| 9 | Wednesday 17th November 2021 | 4:00pm - 6:00pm |
| 10 | Wednesday 24th November 2021 | 4:00pm - 6:00pm |
This course will be live in our online classroom
All you need to take part is a good internet connection and a computer with a webcam, microphone and Zoom.
On booking this course, you will receive an email with the Zoom link to access it. Remember to check your spam folder if you don't receive this confirmation email in your inbox.
Please use the same link to access each of your course sessions.
Please send us a message if you have any questions. We hope you enjoy the course!
About Maria Antoniou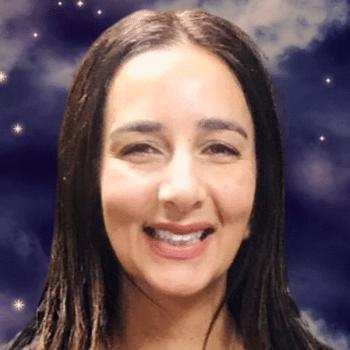 College Tutor Maria Antoniou was aware of her mediumistic abilities since an early age. She suppressed them for years, but eventually came to train at the College. She now teaches with us.
Read more about Maria
Buy Now
To secure your place on this course click book now.
Price: £230.00
Become a member today and you will save £30.00 on this purchase. Find out more about membership.