This course is open for all levels of experience and no artistic skills are needed.
Please have paper and coloured pastels/pencils/crayons to draw with, as well as a notebook and pen.
Do you want to benefit from being more intuitive, predictive and creative in your life?
Join June-Elleni Laine on a course that focuses on the development of intuitive art.
You do not have to be an artist to benefit from this course, although a desire to explore what you could achieve is essential.
Have you ever thought about drawing the essence of love? Happiness? Perfect health?
Imagine being able to draw unseen energy and information that sit on the very edge of consciousness and use it to boost your creativity, intuition and well-being. By learning to 'go with the flow' you will overcome blocks and draw effortlessly. You will then discover how to decipher meaning from colour, form and symbolism in your drawings, unlocking the language of the sixth sense.
You will be encouraged to practice interpreting messages using the artwork you draw for other members of the group. This will help you to validate your interpretations and learn to give readings.
Using guided meditations and exercises that experiment with intention, drawing and visualisation, you will learn to:
Advance your personal and psychic development
Boost your creativity, intuition and self-love
Draw people's energy (aura) and interpret key information about feelings, emotions, personality and any life issues
Draw on the energy of locations and gain information about that place without ever physically being there
Discover ways to find answers to your challenges and pressing questions
Achieve life goals by learning to create mandalas that broadcast the energy of your specific intention
--
We will not be recording these classes. One of the unique aspects of the College's online courses is that they are highly interactive. Participants are encouraged to discuss and share with the tutor and the group. These sharings can be very personal, and some may not feel comfortable with them being recorded. If you need to miss any sessions, your tutor will be happy to offer a brief outline of the material covered.
--
Previous participants say:
"This is the second course I've taken with June. It was absolutely fabulous."
"The course was wonderful & I looked forward to the sessions every week. June is very intuitive & knowledgable in her field. Loved the different areas she covered particularly mandalas. I will definitely book on to her next course."
"The lessons built nicely upon another to generate a holistic knowledge base that was fantastic. Looking back at the images I generated I was both happy and stunned by the journey, huge leaps in my thought processes and my use of colour. It caters for all levels of students' abilities. I was really happy to work with peers from around the world".

--
Course Schedule
There are 8 sessions for this course
| | | |
| --- | --- | --- |
| 1 | Tuesday 28th September 2021 | 6:00pm - 8:00pm |
| 2 | Tuesday 5th October 2021 | 6:00pm - 8:00pm |
| 3 | Tuesday 12th October 2021 | 6:00pm - 8:00pm |
| 4 | Tuesday 19th October 2021 | 6:00pm - 8:00pm |
| 5 | Tuesday 26th October 2021 | 6:00pm - 8:00pm |
| 6 | Tuesday 2nd November 2021 | 6:00pm - 8:00pm |
| 7 | Tuesday 9th November 2021 | 6:00pm - 8:00pm |
| 8 | Tuesday 16th November 2021 | 6:00pm - 8:00pm |
This course will be live in our online classroom
All you need to take part is a good internet connection and a computer with a webcam, microphone and Zoom.
On booking this course, you will receive an email with the Zoom link to access it. Remember to check your spam folder if you don't receive this confirmation email in your inbox.
Please use the same link to access each of your course sessions.
Please send us a message if you have any questions. We hope you enjoy the course!
About June-Elleni Laine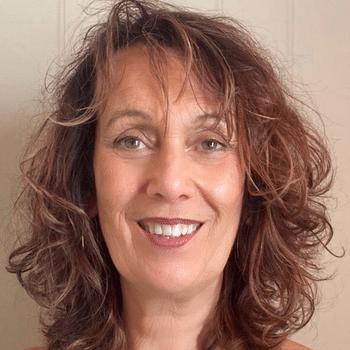 Having worked as a soul artist and clairvoyant for over 20 years, June-Elleni Laine is ideally equipped to teach spirit connection. She is fascinated by drawing portraits of loved ones in spirit.
Read more about June-Elleni
Buy Now
To secure your place on this course click book now.
Price: £200.00
Become a member today and you will save £30.00 on this purchase. Find out more about membership.