Yoga is a game changer, especially in the current changing times. It can show us the right path, prepare us for the journey of awakening and can deeply heal and nurture us. 
Sri Anish has been practicing Yoga for over 15 years and has realized the full spectrum of Yoga – much beyond the layers of Asanas (postures). 
After experiencing the transformational effects of holistic Yoga in all parts of life, from relationships, professional work, personal aspirations and expansion of one's perception, Sri Anish was guided to spread the light of consciousness in the world and initiated a Sangha (community) called 'Saadho Sangha' in India.
Yoga is the essence of the whole of life, but Yoga means different things to different people. Yoga is not just physical postures or flexibility; it is a way of living. It is time that we explore and understand this powerful knowledge in its deepest sense, make use of it and enhance our life's purpose and experience with it.
To celebrate the International Day of Yoga on Monday 21st June, join Sri Anish for this enlightening and beneficial online talk, open to both yoga lovers and those who are new to the practice alike.

--
This talk will be recorded. A link to the recording will be available to those who book.

--

Previous participants say:
"I thought he was an amazing presence."
"An amazing speaker, such wisdom and calmness."
"Sri Anish gave beautiful and profound messages during his talk. He interacted with his audience in a way that showed he really cared about our understanding of his words along with an interest and willingness to hear from his audience."
"What a lovely evening! This is the first time I have been available when Sri Anish has held an event at the college, so was delighted to be able to join, and the evening more than exceeded my expectations. More from him please!!"
--
This talk will be live in our online classroom
All you need to take part is a good internet connection and a computer with a webcam, microphone and Zoom.
On booking this talk, you will receive an email with the Zoom link to access it. Remember to check your spam folder if you don't receive this confirmation email in your inbox.
Please send us a message if you have any questions. We hope you enjoy the talk!
About Sri Anish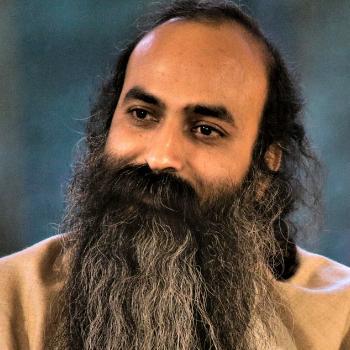 A mystic, spiritual teacher, international speaker and an author, Sri Anish has brought clarity and joyful intensity to the lives of many people. He lives in Dharamshala, India.
Read more about Sri Anish
Buy Now
To secure your place on this talk click book now.
Price: £20.00
Become a member today and you will save £2.00 on this purchase. Find out more about membership.