Whether you're a seasoned psychic or just starting to explore your intuitive side, discover how herbs can guide you in your quest for deeper connections in this livestream talk.
There are many herbs that aid in foretelling the future and gift us with powers of insight. In this livestream talk, we'll look into specific herbs and their unique properties, as well as the mysteries surrounding their special powers…
In this fun, interactive talk, we'll explore:
Which herbs can protect you against negative energies
The trusted herbs that can heighten your psychic senses
The history of herbs in enhancing spiritual practices
Magical potions for scrying and divination
We are all on the spectrum when it comes to our special powers, it's just how much we choose to nurture them. Nature and specific plants can certainly support our development.

--
This talk will be recorded. A link to the full video recording will be available for replay to all those who book.
--
Previous participants say:
"Loved the lovely Seed Sisters with their light and bubbly approach to teaching all about Spells."
"Fantastic presenters really carried there energy's throughout the presentation they shared some wonderful insights and knowledge about plants and also how to grow magically with self expression."
"Really enjoyed the session, highly recommend it."
"The presenters were warm and obviously have a great deal of knowledge and experience of plants and their properties."
--
This talk will be live in our online classroom
All you need to take part is a good internet connection and a computer with a webcam, microphone and Zoom.
On booking this talk, you will receive an email with the Zoom link to access it. Remember to check your spam folder if you don't receive this confirmation email in your inbox.
Please send us a message if you have any questions. We hope you enjoy the talk!
About The Seed Sistas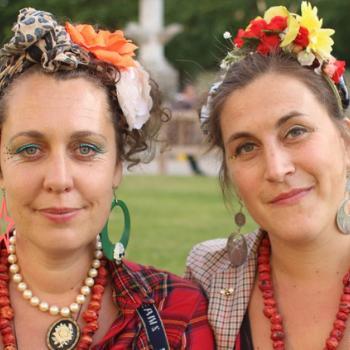 Karen and Fiona are the Seed Sistas. Combining medical training and years of clinical practice with a passion for plants, their mission is to instil a lasting sense of connection with the plant world.
Read more about The Seed Sistas
Buy Now
To secure your place on this talk click book now.
Price: £16.00
Become a member today and you will save £2.00 on your first ticket.
Additional tickets for this event charged at £16.00
Find out more about membership.