Join The College of Psychic Studies' curator and archivist Vivienne Roberts for an exclusive in-person viewing of our unusual collection of mediumistic art, spirit photography and strange objects from the Victorian dark seances. 
While encountering these esoteric wonders, you will also gain an insight into the College's multilayered history. You'll meet key characters such as Sir Arthur Conan Doyle and the pioneering visionary women who trail-blazed the development of spirit-inspired art, such as Anna Howitt Watts, Georgiana Houghton, Ethel le Rossignol and Madge Gill. 

Discover the work of their contemporary counterparts too, and enjoy a rare opportunity to admire the artworks of Aleksandra Ionowa, exhibited for the first time outside of her home country. Many think of her as the Finnish Hilma af Klint.

Throughout the tour, there will be plenty of opportunities to ask Vivienne questions. She has so many anecdotes to share about what it's like looking after such a unique, historic and downright spooky collection. It's a role she describes as the best job anyone could wish for.
If you are drawn to ghostly things and relish tales of the unexpected, then this is the tour for you.
--
Members go free! Everyone can become a College member - click here to find out more.
--
Group tours are available! If you would like to book a tour for your school, university/college, art group, email us at admin@collegeofpsychicstudies.co.uk to arrange it. These group tours are up to 15 people for two hours and cost £140.
--
Previous participants say:
"I love Vivienne's experience and her expertise. She is such a warm lovely person. She is also a very enthusiastic curator and I so admire what she is doing with the genre of visionary art."

"Vivienne Roberts gave such a fantastic tour! We had the most incredible experience in which we learnt so much. Such a knowledgeable, enthusiastic and welcoming curator. Bravo! We can't be more grateful for this terrific visit."
"Vivienne was highly knowledgeable and friendly and the collection itself was beautiful - a gorgeous experience all around!"
--
This talk is taking place in-person at our college in London
You can find the address and travel directions on our contact page - we'll also include all the information in your enrolment email.
About Vivienne Roberts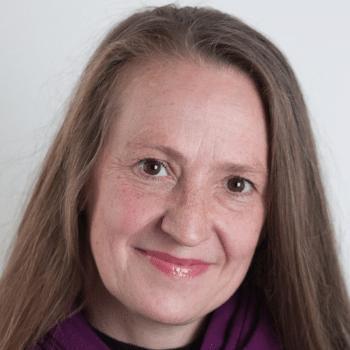 Vivienne Roberts is the curator and archivist at The College of Psychic Studies. Her interest in Madge Gill began in 1999 when art historian Roger Cardinal introduced her to the artist's work.
Read more about Vivienne
Buy Now
To secure your place on this talk click book now.
Price: £10.00
Become a member today and you will save £10.00 on your first ticket.
Additional tickets for this event charged at £10.00
Find out more about membership.