This introduction to anatomy and physiology for healers is one of five workshops. 
We will learn anatomical concepts as a way to ground the spirit and explore ways to apply and enliven your healing practise.
There will be talks on anatomical principals, guided visualisations, tasks and experiential exercises.
In part one we cover:
Orientation of the body
Homeostasis
How the skeletal and muscular systems move us
You will be taught with a holistic approach to the body by embracing the physical, emotional, mental and spiritual aspects as an integrated whole.
Learning anatomy and physiology will give you another viewpoint, clarify your intention when healing, and cultivate a common language of terminology to talk to other health professionals.
Please have writing material with you.
If you are a student on the College Healing Accreditation courses please bring your An Introductory Guide to Anatomy and Physiology by Louise Tucker text book.
--
Previous participants say:
"Very good teaching."
"Very informative again. Doe is a very warm, engaging speaker."
"What an amazing teacher. Loved every minute of it."
--

This workshop will be live in our online classroom
All you need to take part is a good internet connection and a computer with a webcam, microphone and Zoom.
On booking this workshop, you will receive an email with the Zoom link to access it. Remember to check your spam folder if you don't receive this confirmation email in your inbox.
Please send us a message if you have any questions. We hope you enjoy the workshop!
About Doe Warnes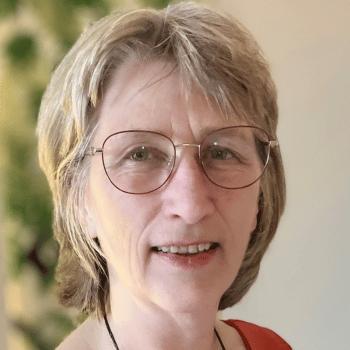 With a background in dance therapy, Doe Warnes is ideally placed to teach Anatomy & Physiology. She is also a Somatic movement therapist & educator and shiatsu practitioner.
Read more about Doe
Buy Now
To secure your place on this workshop click book now.
Price: £80.00
Become a member today and you will save £20.00 on this purchase. Find out more about membership.